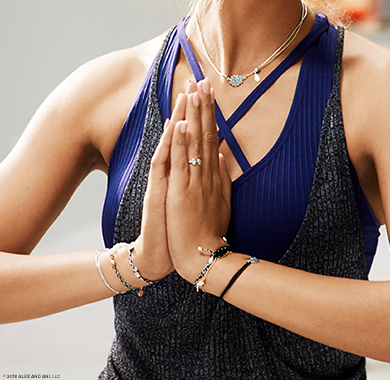 BODY & SOUL YOGA HOUR
January 26, 2018
For the self-motivators who keep encouraging themselves to show up rather than give up… ALEX AND ANI and ATHLETA present "Body & Soul" Yoga Hour. Join us on January 26th from 4:00-5:00PM in Center Plaza.
CLICK HERE TO SIGN UP – the first 50 people who sign up will receive a free ALEX AND ANI yoga mat*. See you there!
* The first 50 customers to sign up for the complimentary "Body & Soul" Yoga Hour presented by ALEX AND ANI and Athleta held at Center Plaza on 01/26/18 from 4:00PM–5:00PM will receive one free ALEX AND ANI-branded yoga mat ($15 value). Sign up open 01/05/18 at 5:00PM through 01/25/18 at 5:00PM by visiting https://bodyandsoulyoga.splashthat.com. No purchase necessary. Message and data rates may apply. One entry per customer, per email address. One free gift per customer. Offer cannot be redeemed for cash. Yoga mat cannot be returned, exchanged or substituted. Must bring copy of confirmation email to the above referenced Yoga Hour in order to redeem.