Kierland Fine Art & Wine Festival
February 3, 2024 through February 4, 2024
---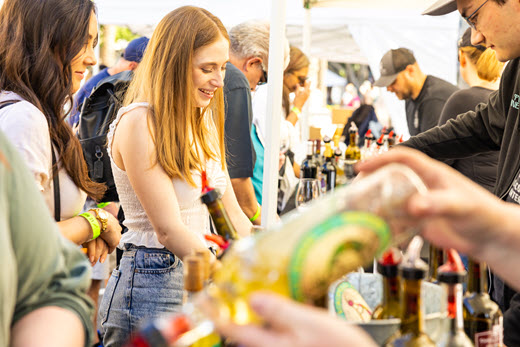 February brings the much-anticipated return of Arizona's premier Art Festival, featuring over 150 artists, local wineries, and live musical entertainment to Kierland Commons.

Get ready to immerse yourself in a world of art and culture featuring over 150 talented artists from around the globe showcasing thousands of original pieces of artwork. Explore a diverse collection of cultures and subject matter, from still life, landscape, and portraiture to nature and abstract art. Admire a wide range of sculptures in bronze, clay, glass, metal, and wood, spanning from small to monumental creations. You'll also find exquisite paintings on canvas, captivating mixed media, intricate fiber art, sparkling hand-blown glass, unique fine jewelry, stunning photography, and so much more!

Festival highlights include top-notch live musical entertainment, gourmet eateries, sweet confections, and, of course, wine! This event is free and open to the public. However, for those who would like to participate in wine and beer tasting, tickets can be purchased on Eventbrite. The link to purchase tickets is coming soon.


BEER & WINE TASTING TICKETS– Purchase your tickets in advance online to receive early bird pricing! We offer several package options:
* SATURDAY – Wine Glass + 10 Tastings $35.00
* SUNDAY – Wine Glass + 10 Tastings $30.00
* 5 Extra Tasting Tickets $10.00
The festival welcomes all ages. However, you must be 21 or over to purchase tickets. Alcoholic beverages will only be served to those who have paid for a package and received the proper wristband.


We are proud to support Horses Help as our host charity. Horses Help provides therapeutic and recreational horsemanship opportunities to children and adults facing physical, cognitive, and behavioral challenges, including at-risk and military populations.
This event is hosted by Vermillion Promotions in partnership with the Willcox Wine Country and Kierland Commons.